TICKETS for DISS RIPTIDE TOUR 2016: Simon Joyner & David Nance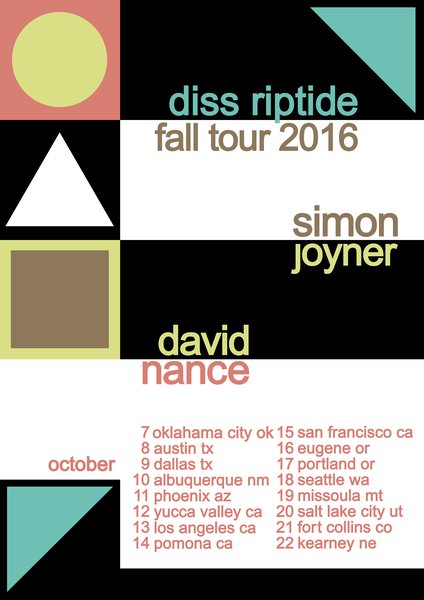 TICKETS for DISS RIPTIDE TOUR 2016: Simon Joyner & David Nance
Simon Joyner & David Nance DISS RIPTIDE Tour 2016

Simon Joyner and David Nance are heading to the west coast on a tour they are calling Diss Riptide Tour 2016. Simon in support of his last album on Woodsist, "Grass, Branch & Bone," and his book of selected lyrics, "Only Love Can Bring You Peace," and David in support of his new album on Ba Da Bing, "More Than Enough." David will be playing solo as well as accompanying Simon during his set on the tour. No bands, just two friends with guitars, a rental car, and weathered credit cards taking their songs on the road.
Below you will find the tour dates (most of which are confirmed, a couple waiting for final details to get ironed out). They are selling tickets in advance for all of the living room shows here. If you click on the link for the city near you, you will have the option to buy a ticket (if it's a living room show). You will also have the option of adding a "GAS FUND BONUS" to your purchase before checking out. After you purchase a ticket, you will receive an email with the address and details for the living room show. Your name will be on a list at the door based on your Paypal payment. You will not receive actual tickets in the mail!
In an effort to raise extra money to grease the wheels of this tour, David and Simon have some tour-only merch they are making available for their Gas Fund. You can add any or all of the five GAS FUND BONUS items to your cart and pick up at the show. If you are not in the path of their tornado but still want to hear and own any or all of the five tour-only albums, you can buy just the GAS FUND BONUS records here and support the tour even though you can't make it to any of the shows. We will ship the bonus items to those who cannot make the tour for free domestically and for an additional $13.00 to the rest of the world. See gas fund bonus records below:
1. Goat's Head Soup. Yes, Simon and David collaborated to faithlessly cover the whole Rolling Stones Goat's Head Soup record. Yes, you do want it. They are in the process of recording it on weekends leading up to this tour. CDR with artwork.
2. Berlin. Yes, David covered the whole Lou Reed Berlin album and it's great. He sold it on his east coast tour and but doesn't want to make any more of these so this is the last opportunity to get this! We will only make as many as are ordered in the gas fund bonus, we won't be selling them on the tour itself. CDR with artwork.

3. Calling Christine. Lost album, recorded every time Dave's wife, Anna, had a long distance phone call with her friend, Christine. Intended for vinyl release, but abandoned by the enigmatic artist. CDR with artwork.
4. Simon Joyner & the Ghosts: Salt Across Your Graves EP. This 8-song EP came out initially as part of a cassette box-set on the Unread label, then re-released as a very limited 10" lathe record on PIAPTK Records and has sold out. CDR with artwork.
5. Simon Joyner & Megan Siebe Rehearsal Tape. Recorded to analog tape at Abbey Alley while rehearsing for a show as a duo in 2013. Relaxed, grainy full-length session featuring some unreleased songs and unique versions of old favorites.
6. Diss Riptide Fall Tour 2016 Hand-Printed Limited Edition Poster. Designed and printed by Dan Crane. Signed and numbered.
These tour-only releases are available
cheaper
for ticket buyers, but we are also offering them individually for those who cannot attend the tour. Click links below.
Goat's Head Soup
Berlin
Calling Christine
Rehearsal Tape
Salt Across Your Graves EP
Poster
DATES (Links soon):
October 7 TBA
October 8 Austin, TX
October 9 Dallas, TX
October 10 Albuquerque, NM
October 11 Phoenix, AZ w/ Blues Oblique
October 12 Yucca Valley, CA w/ The Renderers
October 13 Los Angeles, CA w/ Itasca
October 14 Pomona, CA w/ Refrigerator and Whitman
October 15 San Francisco, CA
October 16 Eugene, OR
October 17 Portland, OR w/ Whip (aka Miracle Whip)
October 18 Seattle, WA
October 19 Missoula, MT
October 20 Salt Lake City, UT
October 21 Fort Collins, CO
October 22 Kearney, NE