Davis, John: Pure Night Plus (2xCD) Reissue Pre-Order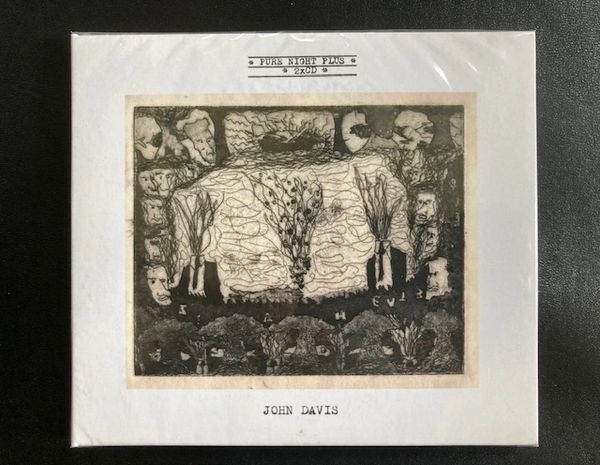 Davis, John: Pure Night Plus (2xCD) Reissue Pre-Order
John Davis: Pure Night Plus 2xCD (Shrimper)
Release Date: September 25th, 2020
John Davis "Pure Night Plus" Deluxe double CD
     John Davis' earliest recordings on Shrimper are being reissued on September 21st via Shrimper in conjunction with John's Inundation label (which issued his instrumental record "Gnawing On The Bone" last year). 
The double CD includes his debut cassette (Stars & Songs, 1993), 7" EP (R.I.P., D.I.Y., 1993) and LP (Pure Night, 1994), along with a 4 song EP that was originally tucked into a split single with Sandra Bell, (Instress Vol. 1, 1995) and 7 bonus tracks, 6 of them unreleased.
. New extensive liner notes by John Davis and Adam Green of The Moldy Peaches explore John's beginnings in The Palace Brothers and the bridge that would lead him to The Folk Implosion. 
The original recordings have been remastered from the master tapes by engineer and producer Matt Pence.  The original artwork by John and his sister Theo has been tracked down and lovingly rendered here, merging with unreleased photographs in a 6 page eco pack with a 16 page booklet
.  These fifty stark and intimate home recordings are out of place and out of time, as unable to date with carbon as those of Moondog, Harry Partch, Annette Peacock and other one person bands of gold.  These timeless melodies would go on to influence a generation of songwriters, and are presented here in all of their minimal glory.
Complete track list:
Pure Night LP: (Shrimper Label, recorded 92-93, released 1994)
3.

     
You're With Me / Wedding Bell Tunes
4.

     
Hey, You Don't Say
6.

     
Where You Shouldn't Be
9.

             
Hey Cheeky
10.

           
Like the Water
11.

            
Our World, Brained
13.

           
Angel I Drive / Tongued in the Mouth
14.

           
Angels Surround
15.

           
Here the Pretty Things Come
16.

           
Breathe In You
Instress vol. 1 7" (Roadcone Label, 1995)
19.

           
Into the Sunset
20.

          
Over Nothing
21.

           
6 Shooters & Canyons
R.I.P, D.I.Y. 7" EP: (Shrimper Label, recorded 91-92, released 1993)
1.

      
Not Long For This World
2.

     
There's No Judgement Day
4.

             
Blonde Downtown
5.

             
Slit Lip Glass Lady
Stars & Songs Cassette (Shrimper Label, released 1993)
6.

             
The Countryside and the Second Sun
7.

             
I remember the angels
8.

             
You're in my dream
9.

             
Baby, baby
11.

            
Open the Canvas
13.

           
Loud are the Cherry Trees
14.

           
Not Long for this World
15.

           
World On Fire
19.

           
Saturday Night Fever
20.

          
Headed Home for a Ride
22.

          
The Mind is Filled
Outtakes from original There's Stars in You 
and Songs of the Trains & Rivers cassettes ('88 - '91)
23.

          
I Had A Dream I Was Down By the Ocean
24.

          
New York City
25.

          
Christmas Day
26.

          
I Hear Bells
28.

          
Follow Up, Follow Down
29.

          
Waiting For My Wife
Featured Products