JOYNER, SIMON & REFRIGERATOR: Was It Something We Sang? Cassette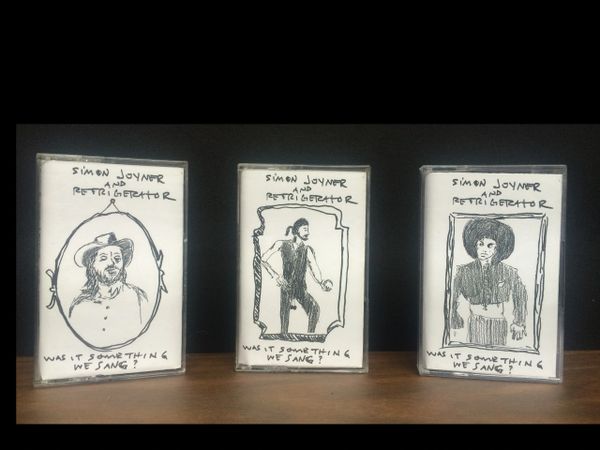 JOYNER, SIMON & REFRIGERATOR: Was It Something We Sang? Cassette
Simon Joyner & Refrigerator "Was It Something We Sang?" Cassette (Shrimper)

10 songs recorded to one-track in the Joyner Living/Dining room.
Official cassette store day release.
Features three different cover variations by Dennis Callaci.
Tracklist:
1. What Makes You Think You're The One? (Buckingham)
2. Bad News (K. West)
3. To Live Is To Fly (T. Van Zandt)
4. Anymore (B. Forrest)
5. British People In Hot Weather (Mark E. Smith)
6. Looking For A Friend (David Blue)
7. Let's Go To Bed (R. Smith)
8. My Heroes Have Always Been Cowboys (S. Vaughn)
9. The Cross (Prince)
10. Bring It On Home (S. Cooke)

Performing on all songs: Simon Joyner + Refrigerator (Daniel Brodo, Allen Callaci, D Callaci & Chris Jones).
With: Mike Marasco and Sara Adkisson Joyner on tracks 1, 7, 8, and 9. Chris Deden drums on track 10. Fante on track 7.