NATURAL SNOW BUILDINGS: Daughter Of Darkness 8LP Box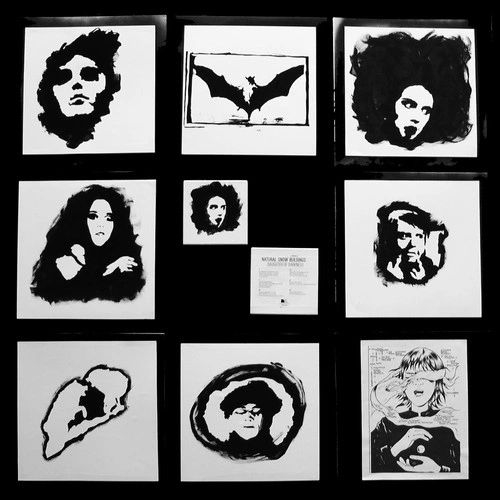 NATURAL SNOW BUILDINGS: Daughter Of Darkness 8LP Box
Natural Snow Buildings "Daughter of Darkness" 8xLP Box (Ba Da Bing) 


*Daughter of Darkness LP box set comes with 8 LPs held in redesigned, hand-painted LP jackets, a NSB sticker & insert drawn by Solange Gularte, one half of Natural Snow Buildings.
Natural Snow Building's Daughter of Darkness first appeared in 2009 as a set of six cassettes limited to 150 copies. Primarily consisting of side-long compositions with the band's signature layered instrumental reach towards sublimity, the project has the power and length to take up your whole afternoon and evening. Such a feat deserves celebration, and nothing affords the respect this achievement accords then creating vinyl and CD versions, so it can be heard more widely. This is music that becomes an ongoing part of your life, the sonic equivalent of a Russian novel or a season of The Wire. The power of the sounds and ingenious performances captured start existing outside of time, and a listening in its entirety yields countless rewards.
Each Daughter Of Darkness box set is hand-painted and constructed with images inspired by Natural Snow Buildings' musical & visual aesthetic. We did all of the painting and packaging in the Ba Da Bing office over a period of many months, and each CD and vinyl box set is unique.
Tracklist:
(LP1)
1. Daughters Of Darkness
2. Curare
3. Satanic Demona (Part 1)
(LP2)
1. Satanic Demona (Part 2)
2. Satanic Demona (Part 3)
3. Carnal Flower
(LP3)
1. Her Face Is Not Her Real Face (Part 1)
2. Her Face Is Not Her Real Face (Part 2)
(LP4)
1. Body Double
2. Slaves For The Afterlife (Part 1)
3. Slaves For The Afterlife (Part 2)
4. Santa Sangre (Part 1)
(LP5)
1. Santa Sangre (Part 2)
2. The Source
3. A Thousand Demons Invocation (Part 1)
(LP6)
1. A Thousand Demons Invocation (Part 2)
2. Will You Die For Me (Part 1)
3. Will You Die For Me (Part 2)
4. Black Pastures (Part 1)
(LP7)
1. Black Pastures (Part 2)
2. Devil's Fork
(LP8)
1. The Invisibles (Part 1)
2. The Invisibles (Part 2)