O'CONNOR, SISTER IRENE: Fire Of God's Love/Songs To Ignite The Spirit LP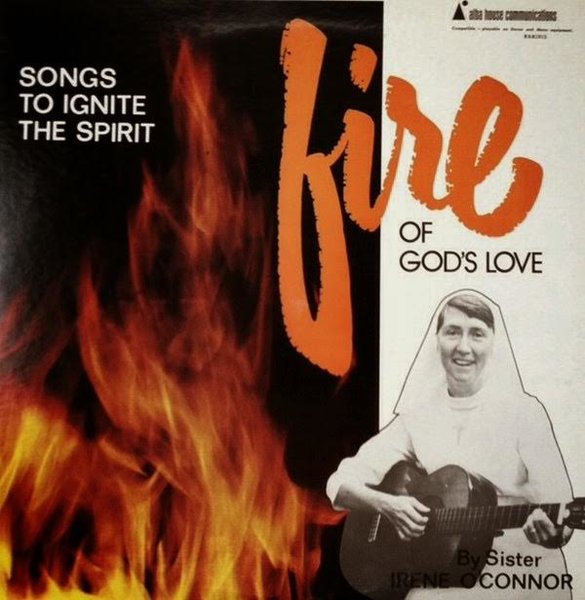 O'CONNOR, SISTER IRENE: Fire Of God's Love/Songs To Ignite The Spirit LP
Sister Irene O'Connor "Fire Of God's Love/Songs To Ignite The Spirit" LP (Alba House Productions - RAH 1015)

Sorry, these are now permanently out of stock!
We have tracked down a few
still sealed
copies of this experimental cult classic. All profits will be donated back to the parish that originally released this album!!
NOTE:
We opened one copy to check for warping since these are original still sealed copies. The one we opened had a slight warp, causing a smooth bump, not significant enough to cause it to skip at all. If you purchase a copy and want us to open it before shipping to check for a warp, we are happy to do that, and if you receive it and it doesn't play correctly on your turntable, you can return for a refund but not an exchange. If you want us to ship it sealed, you cannot return for a refund so please ask us to open it and inspect it for you if you want the option of returning for a refund.
PLEASE limit

ONE

(1) copy per customer. We will refund your money if you add more than one to your purchase or if we suspect you have used more than one account to get additional copies. Please respect the ONE per customer limit. Thank you!


Among the sea of sound-a-like private-pressed Catholic LPs that came out in the 1960's and 1970's, Sister Irene O'Connor's 1976 album stands out with its primitive drum machine and spooky, echo-laden vocals. Released in 1976 on the 'Alba House' label, the dual-titled Fire of God's Love/Songs to Ignite The Spirit LP features several haunting and remarkable songs. In particular, the title track "Fire of God's Love" strikes me as so otherworldly and uniquely eerie that I wonder how far Sister Irene's O'Connor's seeming solipsism extended beyond music. -WFMU
Tracklist:
1. Fire (Luke 12:49)
2. Nature Is A Song
3. Springtime (In Australia)
4. Mass - 'Emmanuel' (Text: I.C.E.L.)
5. Messe Du Saint Espritt
6. Light (John 8:12)
7. O Brother! (Matt. 7:1-5)
8. Mary Was 'There'
9. Teenager's Chorus
10. O Great Mystery (John 6)
11. Christ Our King (Col. 1:13)
12. Keshukoran
Featured Products