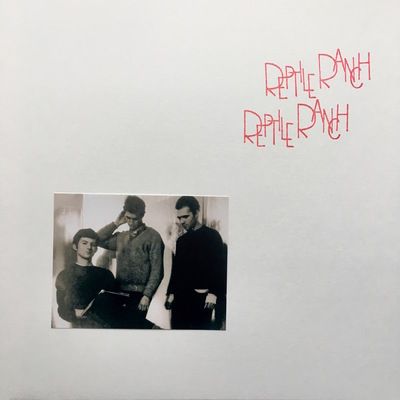 REPTILE RANCH: S/T LP
REPTILE RANCH: REPTILE RANCH LP (C/Site Recordings)
In the early-to-mid 1970's the communities living in south central Wales' Ebbw Valley felt a growing insecurity as the region's coalmines began to close. Life without the mines was difficult to imagine, as they had been the lifeblood of the area for as long as most could remember. From great instability great art is often born – and such is the case when Spike, Phil John, and Simon Smith came together at a school nestled between two mines in Newbridge to form Reptile Ranch.
The trio dabbled with song writing for years before escaping the Valley for the city of Cardiff. Here the band found their stride with growing influence from the burgeoning UK DIY movement. After sending a letter to Scritti Polliti's Carol Street address the boys received a package chalk full of information on how to release their own records. They wasted no time in forming their Z Block label, and releasing their brilliant debut Don't Give the Lifeguard a Second Chance 7". In a smallest of small world coincidences they ran into Scritti Polliti and NME journalist Ian Penman while leaving the pressing plant with their freshly pressed, blank labeled, double A-side singles. From this chance meeting their first review was written, their relationship with Scritti Polliti was furthered, and distribution help from Rough Trade was solidified.
More invigorated than ever Reptile Ranch became a staple of a new scene in Cardiff, centered at the Grassroots Café. Like-minded bands like Riotous Brothers, The New Form, and Young Marble Giants joined Reptile Ranch in playing and releasing records. Reptile Ranch built a temporary studio in the café in order to record two Z Block compilations of Cardiff bands, Rough Cuts and Is the War Over?, as well as their masterpiece, 1980's 4-song Animal Noises 7".
Reptile Ranch's sound is deeply original. Often lacking drums, Phil John's bass playing does double duty as both the guiding rhythm and backbone of melody. Meanwhile Spike and Simon Smith's guitar work are without parallel as they bob and weave through diverse sets of riffs and unique licks. Somehow the band lands in the realms of Post Punk that will excite fans of the Desperate Bicycles, Wire, and The Fall.
With this release all of Reptile Ranch's work is available on a single LP for the first time. In addition to the bands released work this record also features two unreleased live tracks and two unreleased studio tracks (one of which is from the bands improvisational alter ego Reptile Cancer). Packaged in beautiful hand-stamped jackets with paste-on photographs and includes a 6-page insert of photos, flyers, artwork, journals and memos. One time pressing of 500 copies.
Featured Products