SHELTER DEATH: I CANNOT HEAR THE FILTHY CITY Cassette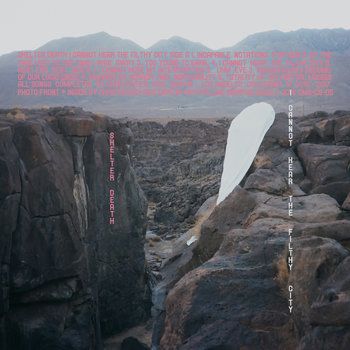 SHELTER DEATH: I CANNOT HEAR THE FILTHY CITY Cassette
Shelter Death: I Cannot Hear the Filthy City cassette (Crystalline Morphologies)
Catalog #: CMS-CS-05
Grapefruit is excited to carry several tapes and LPs by Los Angeles label, Crystalline Morphologies, including this one by Shelter Death.
"Shelter Death: as apt a name to convey the presence of parched desolation, a dust scape of dead technologies and the specters of lost transmissions. Christopher Reid Martin's work defies a simplistic classification, a darkly ambient album with a few full-fledged songs that conjures memories of Gate, Conrad Schnitzler,  Roy Montgomery, Eliane Radigue, and Maurizio Bianchi without resembling any of them. "Automatic Writing"-as-raspy-bar-ballad,  unnerving Berlin synth apparitions, crushingly melancholy New Zealand-inspired guitar drone, I Cannot Hear The Filthy City never establishes itself in a particular space, but remains starkly coherent and thoughtful."
- Paul Haney, Obsolete Units
SHELTER DEATH is multidisciplinary artist Christopher Reid Martin, currently residing in Los Angeles. He first began working with sound in Orange County in 2004, layering sounds from various field recordings of daily life which convey living truths and over processed instrumentation as the reactionary expression. These expressions came to birth the solo project known as of Shelter Death, as it has evolved into a project in which performance and sound interplay to make for a personal reactionary experience in a perpetually decaying world.
In 2010, Christopher took his creative endeavors into other avenues, releasing tracks under various formats under his shared Orange County-based label Via Injection. Christopher's creative repertoire expanded when he began documenting his experience in countries outside the U.S. by making field recordings, foreign radio recordings, and making photographs.
His photographs were either left unaltered, or digitally manipulated and collaged with obsolete schematic documents. This process led to an ongoing body of work fusing everyday photorealism with outmoded technology in the form of chopped grids and manuals.
Christopher shows visual art in gallery exhibitions and has performed live with Bailouts, Via Injection, Shelter Death, Rotary ECT, ID Meridian, GS/CRM and under his own name.
Featured Products