Shepard, Jim: Heavy Action 2xLP + Bonus 12" EP & Booklet, Postcard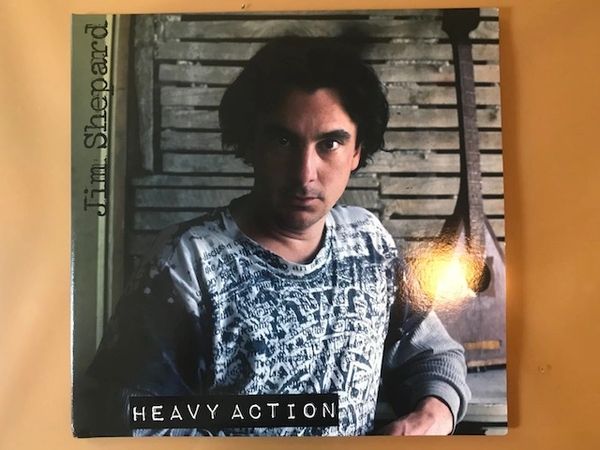 Shepard, Jim: Heavy Action 2xLP + Bonus 12" EP & Booklet, Postcard
Jim Shepard: Heavy Action (Ever/Never Records)
Release date: October 4th, 2019
29 song collection of unreleased songs from the private collection of Shepard's friend, the poet Charles Cicirella. Includes double album of unreleased material, plus a bonus 12" 45rpm EP, a reproduction of a postcard Shepard mailed to Tom Lax, a large booklet, and download card. This is a very limited pressing, not likely to be repressed, and I've been told is already out of print from the label. We only received 12 copies for distro so get 'em while you can!
When Charles and Josh tapped me to spill some ink for this project, I couldn't say yes fast enough. Culled from Charles's vast personal collection, the contents herein abide no formality and as such, ushers forth an insider's take into Jim's frantic, restless genius you'll not likely find again. Timelines? What are you, some kinda cop? It's fresh ears all around on this one, folks, none of this material has seen the light of day till now. It twitches, it grunts, it flares, and it soars. It ain't no one type've nothin', unless that's Loaded. In my king fu village, this pivotal document to the blood spilt across the floor of an iconoclastic career is right up there with the Velvets, Caught Between The Twisted Stars, Beefheart's, Grow Fins & those Blorp Essette comps. Who knows if the official vaults will ever be opened? And even if, what you'd likely get is the known entities anyway, trussed up in new boots 'n' panties. This is mud fresh from the private swamp. And as you'll soon find out, Jim could make it crackle.

- Tom Lax, Philadelphia, Pa 3/15/19, From the liner notes, "BRING ME THE MOUSTACHE OF BERNADINE DOHRN"