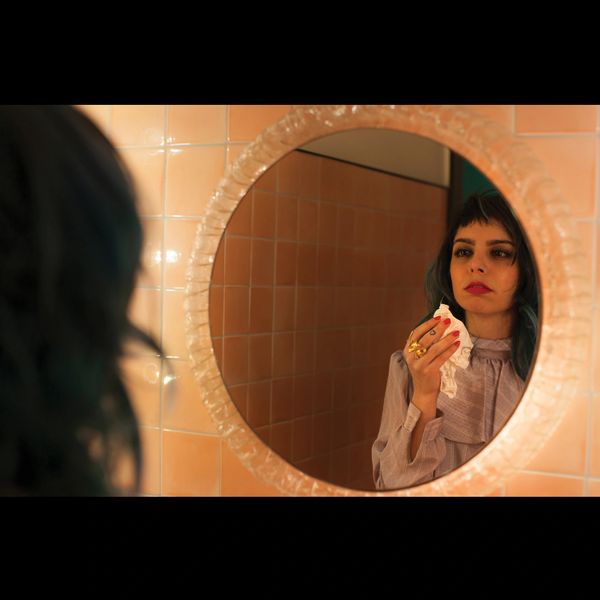 TALSOUNDS: Lovesick LP
TALsounds "Lovesick" LP (Ba Da Bing)

Street Date: Out Now!

Natalie Chami's project 
TALsounds
 documents solo sessions of improvised synthesis and live-looped vocal performances, presented to the listener as discrete takes without overdubs. The decisions she makes in her atmospheric sketches - the onset of a quivering vocal melody, the echoing turn of a delay knob - flash across her stereo spreads as seismic ripples within a network of standing 
sounds
. Frozen into recursive afterimages of fingers on keys, her intricate synth arrangements juxtapose textures from her rig of analog electronic instruments and compound into narrative arcs at once alien in tone and direct in human-to-human address. 
Love Sick, 
TALsounds
's first LP release, follows a series of full-length tapes on labels like Hausu Mountain
 (
run by Chami's bandmates in free music trio Good Willsmith),
 Patient 
Sounds
, and Moog's own physical imprint. While these releases showcased Chami's ideas in the context of looser improvisations, drifting off into extended states of narcosis and looping architectures, 
Love Sick 
distills her tactics of spontaneous composition into her most concise song cycle to date.
Love Sick shifts through a program of contrasting moods and tonal palettes, from close-mic confessional meditations to funereal deep space ritualism. Queasy and clipped percussion samples pop into view over live-layered sheets of sawtooth drone. Liturgical organ chords intersect with the fine-grain whirr of monophonic noise formants. With each live sketch laid out over a length closer to the traditional pop format, far-flung sonic elements arrive as momentary upheavals to animate the space Chami allots them before falling back into the murk. Within webs of texture, TALsounds's vocal performances sound out in her most frank mode of address yet captured. Fragments of discernible lyrics smear into melismatic melody lines and loop back around, intertwining into complex harmonies with her wordless vocalizations. Her vocal style, informed as much by her classical voice and opera training as by a lifetime of immersion in Björk, Portishead, Aaliyah, and Sade, blends a hands-on process of technical self-accompaniment with moments of diaristic intimacy. A more direct recording strategy, with individual feeds of her live performances mixed in isolation, renders every sigh, whisper, and wail at a level of detail far from the realm of cavernous reverb ambience. When Chami's lyrics emerge on the spot in flashes of legibility, they draw out a fascination, or maybe a preoccupation, with the control that raw emotions have over mind and body. The love sickness she offers sidesteps any cutesy, wistful implications, and skirts closer to a state of physical illness whose cause and solution can't be identified. TALsounds captures the stewing within these feelings, the confidence to keep them close and use them for fuel for another fire, without letting confusion or fear of imperfection overtake her. 
Love Sick reveals TALsounds as a remarkable anomaly in an era of bedroom producers and laptop-abetted pop projects - capable of sculpting dense fields of sound in live takes and channeling improvised vocal performances into emotional frameworks that betray no defects for their process of instant conception. Quite simply, this way of making music has become second nature for Chami. Distinctions between genres and performance style give way to the clear limitlessness of her musical practice, the experiments of her workaday recording regimen. Her art floats with a body and character not quite identical to her own, pressed into fluid and squeezed of symbolism. TALsounds paints Love Sick from moment to moment with clouds of abstraction and ambiguity, while understanding with some cosmic certainty that this music is the only appropriate form through which to communicate her own depths. 

Tracklist:
1. I Saw The Way
2. Grace
3. Disgrace
4. See Through
5. I Can't Sleep
6. 11:11
7. Home
8. Crossing Lines
9. You're Trying To Drive
10. My Side My Sign
11. Oceans Passed
12. Stories
Featured Products