THE REUBEN: LP Bundle Featuring Four Albums by Simon Joyner, David Nance & Noah Sterba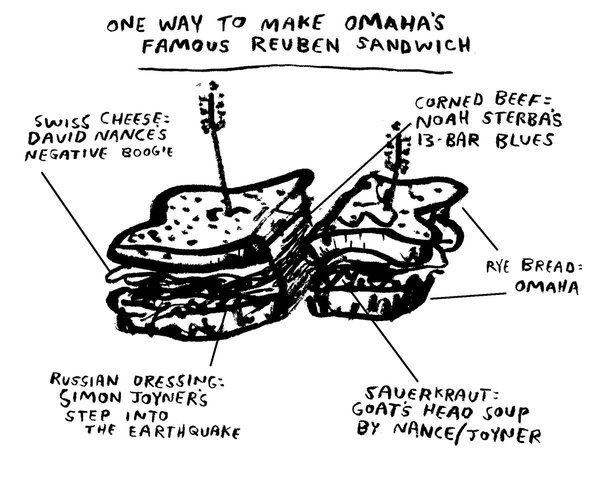 THE REUBEN: LP Bundle Featuring Four Albums by Simon Joyner, David Nance & Noah Sterba
THE REUBEN:

Includes vinyl versions of
David Nance's
Negative Boogie
Noah Sterba's
13-Bar Blues
(Preview the track "Too Far Gone"
HERE
!!!)
Nance & Joyner's
Goats Head Soup
&
Simon Joyner's Step Into The Earthquake 2LP (
Regular Edition
)
*There was an option to get the deluxe version of the Simon Joyner album as part of the bundle but the deluxe version was limited to only 50 copies and it's sold out now.
We will mail them in two batches - Negative Boogie, 13-Bar Blues and Goats Head Soup in early July, and the Joyner in a separate package around the September 8th street dated.
Don't be worried if you already ordered a copy of Goats Head Soup or Negative Boogie! There is an option for you above with a discount on the other three albums!
Click the links above for album descriptions!
**Reuben drawing by Omaha artist and beloved friend, Jeff Sedrel. Check his other stuff out
HERE
!!!
Featured Products